Substantial growth in merchandise and intermodal traffic was offset in part by declines in coal. But a greater emphasis on merchandise traffic in the changing mix of Norfolk Southern's traffic base enabled the company to post gains despite weakness in the coal market.
NS' Industrial Development group continued to build the company's customer base, assisting with the location of 93 new industries and the expansion of another 33 in 2002. This represents a planned investment of nearly $4 billion by NS customers and is expected to create about 4,800 jobs in the 21 states where the plants and expansions are located. NS expects these industrial development efforts to generate more than 91,100 carloads annually, producing gross revenues of $125 million.
Agriculture, Consumer Products and Government
Norfolk Southern and the Burlington Northern and Santa Fe Railway Company introduced a new coast-to-coast carload service assurance program for temperature-controlled commodities moving from selected cities in the Pacific Northwest to the Midwest, Northeast and Southeast.
One new 75-car grain shuttle destination was added to the network, with more planned in 2003. This brought the total number of receivers using the shuttles to five. The shuttle trains' six-day cycle time represents an improvement in car utilization of nearly 200 percent over NS' 50-car network moving in this market.
Fertilizer shipments showed the first year-over-year increase since 1999, thanks to an improving agriculture market and aggressive marketing.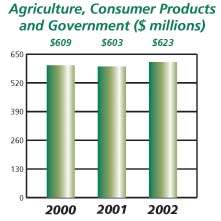 Revenues increased $20 million or
3 percent in 2002, despite a small decline in traffic volume. Revenues benefited from higher rates, increased length of haul and favorable changes in the mix of traffic.
Automotive
The Automotive group produced its best year ever, with $961 million in revenues, an increase of $76 million or 9 percent over 2001, comparing favorably to a 6 percent increase in North American vehicle production.
Implementation of TOP resulted in on-time performance improvement from 62 percent to 86 percent for automotive vehicle traffic and from 83 percent to 97 percent for automotive parts.
Improved service won 4,800 annual carloads of multilevels from DaimlerChrysler, traffic that formerly moved by truck. DaimlerChrysler benefited from reduced delivery costs to Michigan, Illinois and Missouri dealers.
The Ford mixing center network was restructured, which enabled NS to improve reliability and velocity and reduce equipment handling. These improvements resulted not only in better service but in reduced costs and less damage to vehicles.
NS secured 3,800 annual carloads of finished H2 Hummers from Mishawaka, Ind., and inbound frames for the vehicles from St. Thomas, Ontario. A retooled and reopened General Motors plant in Oklahoma City awarded NS its entire inbound rail parts business of 8,800 annual carloads, in cooperation with Burlington Northern Santa Fe.
Assembly plant expansions on NS include Mitsubishi in Normal, Ill., Toyota in Princeton, Ind., and Mercedes-Benz in Vance, Ala.
GM's new inbound vehicle distribution facility in Moraine, Ohio, received more than 5,000 new carloads of vehicles via NS.
GM recognized NS' performance with its All Star Quality Award for damage-free rail delivery.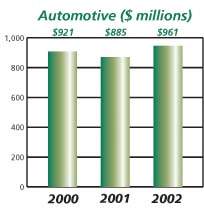 Revenues increased $76 million or
9 percent in 2002, primarily because of a 7 percent gain in traffic volume that resulted from higher vehicle production and new business.
Chemicals
Overall, carloadings were essentially flat with 2001, while revenues grew 2 percent. Plastics shipments showed a 4 percent year-over-year increase, tracking an increase in automotive production and housing starts.
TOP's performance resulted in 6,300 annual carloads of new traffic, including conversion from truck to rail of 300 carloads to a Bridgestone-Firestone plant in Graniteville, S.C.
NS secured 500 annual carloads from a new asphalt terminal in Perry, Ga., 200 additional annual carloads from an expanded shingle plant in Tuscaloosa, Ala., and 400 new carloads from new plastics plants.
Growth at Thoroughbred Bulk Transfer terminals yielded 1,600 carloads. Truck diversion yielded 900 new carloads.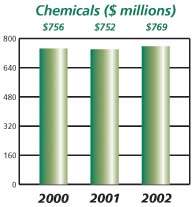 Revenues increased $17 million or
2 percent in 2002 on slightly higher traffic volume. Average revenues increased as a result of a favorable change in the mix of traffic and market-driven rate increases.
Metals and Construction
NS' comprehensive market and equipment position, service improvements and new business initiatives helped extend its leadership role in transporting metals and construction commodities. Metals and construction traffic increased by
2 percent in 2002.
Business opportunities for metals and construction in 2002 included the following:

Several steel mills that were closed or idled during 2001 returned to production. Among them were the International Steel Group purchase of LTV Steel and Acme Metals, and Nucor's purchase of Trico Steel, which contributed more than 6,000 total carloads.

New steel mills located on NS began or increased production, including Chaparral Steel, Petersburg, Va., IPSCO Steel, Lemoyne, Ala., and Steel Dynamics, Columbia City, Ind., resulting in an increase of more than 4,300 carloads.

New opportunities and increased volumes of imported semifinished steel using the NS slab steel unit train network from East Coast ports resulted in a 46 percent increase in carloads.

New scrap steel business grew almost 12,000 carloads over 2001 levels.

Other business growth resulted from improved service levels and equipment utilization.

Access to new stone quarries, including Anderson Columbia, Junction City, Ga., and Birdsboro Materials, Reading, Pa., generated increased carloadings.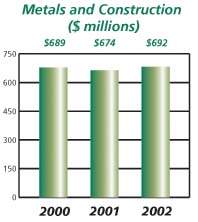 Revenues increased $18 million or
3 percent in 2002, as a result of a
2 percent gain in traffic volume. Metals volume benefited from resumption of production at some mills that closed in 2001 and increased volume from new mills. Construction traffic declined as highway projects were reduced because of state government budget pressures.
Paper, Clay and Forest Products
Although paper, clay and forest products revenues declined 1 percent, traffic benefited from several key initiatives during 2002:

TOP service improvements in key corridors led to an average improvement of 11 percent in transit times for paper, clay and forest products customers.

Focus on truck-to-rail conversions brought a total of 5,000 carloads diverted to NS during the year.

A car quality program enhanced the boxcar fleet and reduced damage to paper products.

A new lumber reload facility opened with Raven Logistics in Columbus, Ohio.

Supply chain projects with various paper companies optimized outbound paper traffic flows from mill to receiver and reduced total delivered cost.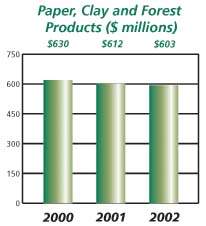 Revenues decreased $9 million or
1 percent in 2002, a result of a 3 percent drop in traffic volume that reflected continued weakness in the paper market, especially in the first half of the year. Traffic volume improved later in the year as the paper market strengthened. Revenue per unit benefited from rate increases and a decline in shorter-haul business.
Intermodal
Intermodal volume on NS grew 6 percent in 2002, more than on any other major U.S. railroad. New services and service improvements enabled significant conversions from truck to rail. On-time reliability and service speed enhanced NS' position as a partner for premium customers such as UPS and less-than-truckload carriers.
Reliability also made possible an increase in interline guaranteed services from four lanes in 2001 to nine lanes in 2002. NS moved more than 2,500 loads of guaranteed business.
In partnership with Union Pacific, NS introduced new expedited intermodal train service from the Northeast and Southeast to Mexico, and an additional "Blue Streak" guaranteed service between northern California and the Northeast.
More than 7,300 loads were converted from truck to rail from Dockside, at Port Elizabeth, N.J., to Canada via Canadian Pacific, for an annual conversion rate of 15,000 units.
In a marketing alliance with Florida East Coast Railway called the Hurricane Service, 6,000 loads between Atlanta and Miami were converted from truck to rail. Also, new Southeast-Northeast train service converted more than 26,000 loads.
In its first full year of operation, the John W. Whitaker intermodal facility at Austell, Ga., near Atlanta, contributed more than 61,000 truck-to-rail conversions. At Cleveland, Ohio, the Maple Heights facility contributed more than 22,000 conversions, with an 80 percent growth in international traffic to and from Cleveland. The Savannah, Ga., intermodal facility contributed more than 15,000 conversions, with a 34 percent growth in international traffic to and from Savannah.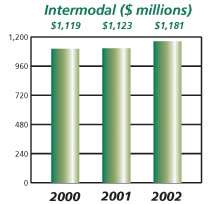 Revenues increased $58 million or
5 percent in 2002 as a result of a
6 percent gain in traffic volume. Volume growth was driven principally by new and improved services that resulted in new business, including the conversion of truck business to rail.
Coal
Coal, coke and iron ore tonnage was down 4 percent in 2002, and revenue decreased 5 percent compared with 2001.
As a result of high stockpiles, declining electricity prices and a slower economy, domestic utility coal shipments were mostly sluggish. Domestic metallurgical coal shipments declined in 2002, as did export coal moving through Lamberts Point in Norfolk.
The Coal Business Group improved customer service and efficiency of operations. New business, customer focus and pricing initiatives helped offset declining export and domestic metallurgical coal volume throughout the year.
Efficiency improvements enabled the company to increase trains with the optimal number of cars from 60 percent in 2001 to 81 percent in 2002, which reduced the total number of trains and associated crews and locomotives. Tons per car were up from 104 in 2000 to 106 in 2002, resulting in fewer train starts, 5 percent improved revenue per car, better locomotive utilization and lower fuel costs. Improved cycle times, better use of higher capacity cars and retirement of lower capacity cars enabled NS to reduce its coal car fleet by 5 percent.
Important areas for new business development and growth in 2002 included:

A rail spur to FirstEnergy's Sammis Power plant at Stratton, Ohio, created new business of about 20,000 annual carloads.

Shuttle service to the Powhatan Point river terminal in eastern Ohio is adding more than 60,000 annual carloads of new business.

NS bought from Peabody Coal the Yankeetown Dock Railroad in Indiana, which serves a large Alcoa generating plant in Warrick, Ind., the Culley coal-fired generating unit operated by Vectren, and substantial Indiana coal reserves.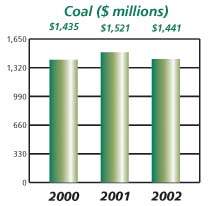 Revenues decreased $80 million or
5 percent in 2002, reflecting lower utility and export coal traffic volume.
MODALGISTICS
By developing tailored, innovative logistical solutions for a variety of companies, MODALGISTICS secured more than 9,000 additional carloads for NS and strengthened strategic partnerships with customers.
MODALGISTICS, an NS business unit, continues to enhance customer value and increase revenue for NS by coupling the latest logistics technology with NS' rail network and assets. A new suite of services includes shipment, fleet, vendor, transportation and inventory management, and performance tracking capabilities, to provide customized logistical management and support.
Various customers are benefiting from MODALGISTICS' services to track shipments for shippers and receivers of high-value metal products. An example is a new SteelNet® coil-processing and warehouse facility in Atlanta, operated by Collier Metals LLC and MODALGISTICS.
MODALGISTICS also expanded its Thoroughbred Bulk Transfer Terminals network with two new facilities in Chicago and Augusta, Ga. These facilities transfer bulk products such as plastic pellets or liquid sweeteners between truck and rail. NS now has 27 TBT facilities.
TransWorks
TransWorks, an NS subsidiary, has developed and implemented the most comprehensive and automated transportation technology and services available in the industry.
NS' Triple Crown Services, Thoroughbred Direct Intermodal Services and MODALGISTICS all use TransWorks' transportation management technology and people to minimize transportation costs and increase employee productivity.
TransWorks aggressively grew its external customers in 2002, providing shippers, carriers and transportation intermediaries with similar automated transportation solutions, emphasizing the value that NS contributes to customer success.
East Carolina Business Unit
NS created the East Carolina Business Unit, a marketing and operating unit similar to a short line railroad but linked to NS' dispatching, customer service and operating systems. The ECBU has dedicated local management with complete responsibility for managing 485 miles of track operated by NS in eastern North Carolina. The first of its kind within NS, the ECBU is designed to bring the railroad closer to its local customers while improving the use of rail assets.
Short Line Partnerships
NS realized 2 percent revenue growth from partnerships with 239 short line and regional railroad connections in 2002, building upon an already strong foundation of cooperation and mutual business development.
Two of NS' short line and regional partners received top honors from Railway Age magazine. The Reading Blue Mountain & Northern in Port Clinton, Pa., was named regional railroad of the year, and the Winchester & Western Railroad in Bridgeton, N.J., was named short line railroad of the year. NS nominated them for their roles in developing new business in construction materials in southeastern Pennsylvania in conjunction with NS. By shifting movements of construction aggregates off the highway and onto rail, the railroads reduced costs for shippers and relieved highway congestion in the Philadelphia area.
"Logistics is a mission-critical aspect of our commitment to help make our customers' products better. To meet that commitment, we needed you to act as a true partner, and you did."
— Dan Pigott
BASF Corporation
Norfolk Southern delivers raw materials from Louisiana to BASF chemical plants at Wyandotte, Mich., and Washington, N.J. "To address critical service level issues, teams from both companies worked together to develop innovative solutions,"said Pigott, director distribution and transportation.
"We wanted to see improvement, and you wanted to see improvement, so we started with a shared goal.
"The key to success in meeting this goal was open communication between our companies," Pigott said. "Norfolk Southern's service design team brought trainmasters and engineers into our meetings so that we had hands-on expertise at the table. These people not only knew the routes but also the seasonality of the business."
---
"Norfolk Southern delivers creativity and operational excellence."
— John Bargerhuff
Vulcan Materials Company
Vulcan is the nation's largest producer of construction aggregates. "We're in the rock quarry business," says Bargerhuff, transportation director.
NS serves Vulcan quarries in Illinois, Alabama, Georgia, South Carolina and Virginia. The rock often must be delivered to remote locations for use in making products such as asphalt, concrete and pipe.
Bargerhuff says NS provides dedicated unit-train service that "enables us to reach markets with our facilities that otherwise we would not be able to participate in."
NS "has been extremely creative to come up with service designs to drive costs out of the system for us both to have acceptable margins." An example, he said, is a Virginia project in which NS invested in track and Vulcan invested in receiving facilities to make it beneficial for both.
"Even when things don't go as planned – machinery and people occasionally will fail – at least we communicate and have the depth of relationship with each other that we can work it out."
---
"Norfolk Southern is a key strategic partner for Schneider National, helping us take traffic off the highways and put it on rail."
— Brian Bowers
Schneider National, Inc.
Schneider is a leading provider of premium truckload and intermodal services in North America. With 45,000 trailers, all capable of being lifted onto rail cars, plus container service, Schneider seeks rail partners that can meet stringent service requirements.
"Intermodal is a very important part of our business, and NS provides the kind of consistent and reliable rail service as well as ease of doing business that we need to best serve our customers," says Bowers, vice president intermodal and brokerage services.
"It is critical that we provide seamless service to our customers. We can do that with NS as a rail partner. New technology, new facilities and some process changes have given us a better product for our customers. New products such as Blue Streak coast-to-coast rail service, NS' newest intermodal facility in Austell, Ga., and the elimination of crosstown draying in Chicago help us provide superior service to Schneider customers.
"We have seen significant improvement in service from Norfolk Southern over the past two years and expect it to continue to improve."
---
"We anticipated a certain amount of turn times on our equipment, and as of right now, we've exceeded the original projections. The NS operating group is working with us to get that equipment turned around."
— Kevin Larkin
FirstEnergy Corp.
FirstEnergy, a diversified energy services company headquartered in Akron, Ohio, has received a lot of attention for putting rail unloaders at traditionally barge-served coal-burning power plants. "Part of our market strategy is to reach out further than just the river-origin coal," says Larkin, general manager fuel and transportation services. "Basically, we want to increase our options for purchasing and delivering coal to our plants."
FirstEnergy saw an opportunity at its Sammis Plant at Stratton, Ohio, a large facility adjacent to a Norfolk Southern rail line, that burns in excess of 6.5 million tons of coal annually. "This really was a collective effort by both FirstEnergy and NS to determine the feasibility of bringing direct rail service to a barge-served plant," Larkin said. "Based on the delivered cost, we were able to reach a cost-effective option with NS, including the installation of the rail unloader."
The result? "We are achieving our goal of unloading 130 cars in four hours or less. I'd put that up against any system in the country. What this means for us is that we now have the ability to ensure that that plant has multiple transportation options and sources of coal to meet its generation needs."
---
"I see more customer interface than I have in the past, and to me that's the way you've got to go."
– Stoy Taylor
J. M. Huber
There's a good chance the bright white surface of this page contains kaolin clay from Huber, a diversified supplier of engineered materials that ships kaolin clay from Georgia to paper companies throughout the United States and Canada. Because of the specialized nature of the product, Huber, like all kaolin clay producers, owns its own fleet of rail cars.
"NS' destination times are the basis of our fleet sizes," says Taylor, who has worked with NS' MODALGISTICS team both as material flow manager for Huber and as president of the U.S. Clay Producers Traffic Association. The better the transit times, the smaller the fleet the clay producer must maintain. "Our people are working closely with MODALGISTICS in monitoring transit times, and these are data that you can use to run a more efficient fleet."